Kim Wallace Ceramics
Regular price
Sale price
$18.00 USD
Unit price
per
Sale
Sold out
Flat rate shipping

Handmade with heart

Female makers
Bring some beauty to your home with gorgeous functional ceramics. This little pebble-shaped dish is made from high fired stoneware and porcelain clays, and glazed by hand in Hattie's favourites glaze colours. Select your favourite from the dropdown menu.
Measuring approximately 9cm in diameter and dishwasher safe, these beauties are ultra versatile and a wonderful addition to the home. Use for an:
Olive dish
Condiment or sauce bowl
Jewellery dish
Soap dish
Candle dish
Pair with one of our artist illustrated organic cotton tea towels in coordinating tones for a truly beautiful gift. 
Please note: All Kim Wallace ceramics are handmade and colours, brush strokes and glaze variations may vary from the photos shown ~ this is not considered a fault but is part of the beauty of these glazes and the handcrafted ceramics process.
View full details
Kim Wallace Ceramics
Born and raised in the Netherlands, Kim has called Australia home for over twenty years. With a passion for art and design, Kim dabbled in ceramics, painting and drawing while she worked professionally as a graphic designer for nearly ten years.

After a while, she found herself longing to work and create with her hands ~ the antithesis of her computer based job. In 2008, she made the decision to swap her desk for an apron and has been happily elbow-deep in mud ever since.

Her ceramics are used and adored by some of Australia's most well known chefs and noteworthy restaurants, including Aria Sydney, and are regularly used and seen on popular television show MasterChef Australia.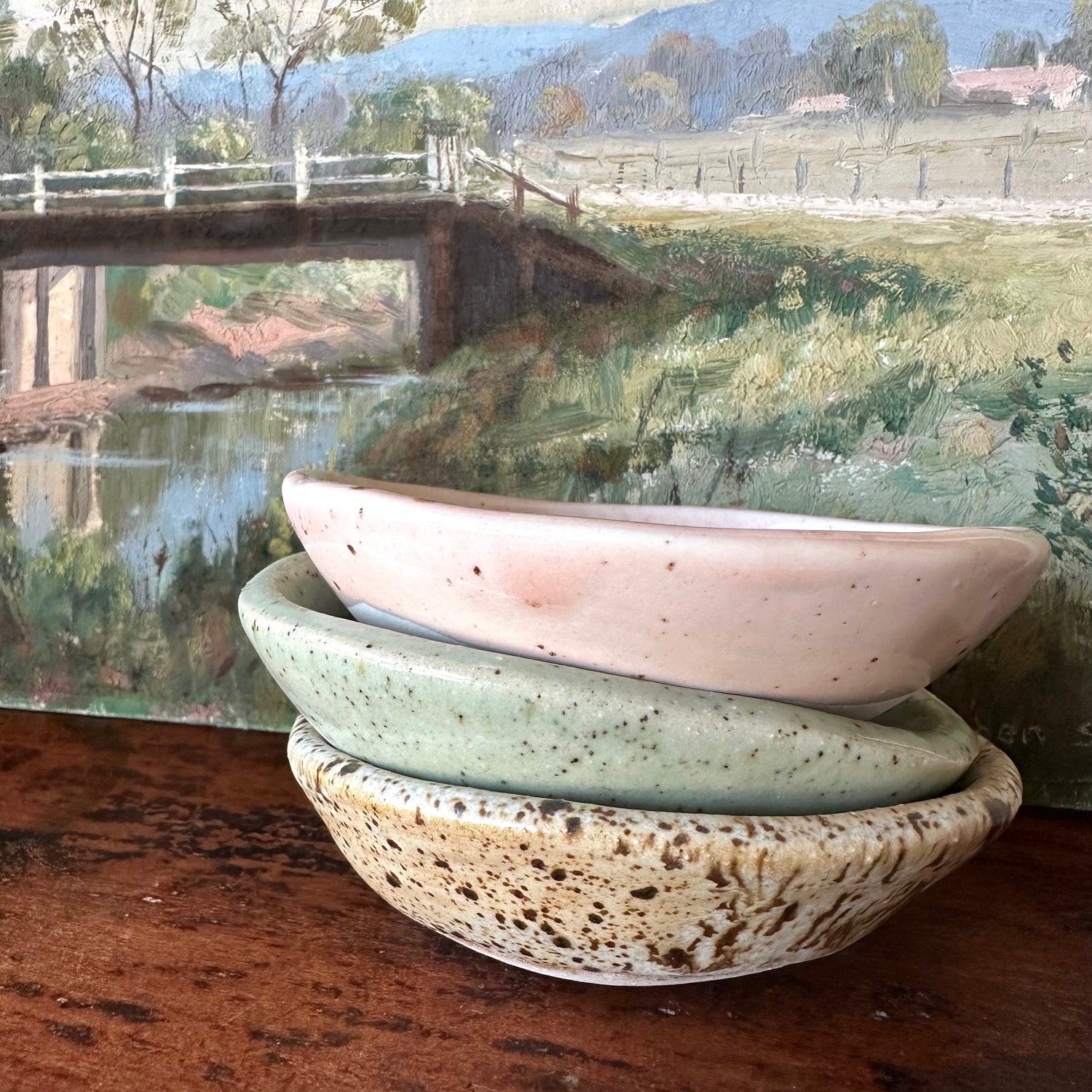 Handmade with heart
It's such fun working on sourcing gorgeous new handmade products by women across rural, regional and remote Australia. There's so many new introductions to Wattle and Twine and I've experienced some serious fan girl moments in the process.. enjoy!
OUR COLLECTIONS
Bespoke

Each piece is unique and brimming with the character only handcrafted can offer.

Intentional

Each piece is carefully created and crafted by hand using quality materials.

AUS made

Each piece is proudly and thoughtfully made in Australia by rural, regional and remote women.